Touring Performers
Michael Andrews
Executive Artistic Director, Co-Founder
Michael Andrews is a theatrical pioneer, workshop leader, performance coach, business consultant, and musician, living Southern California. Born into a family of philosophers, poets, musicians and social engineers, his career is a natural progression from his background and interests. Michael believes that theater should be transformative in nature. Using mythology and ritual, theatre can carry cultural wisdom, teach values and create a sense of social unity and integrity for a community.
Currently Michael is the Executive Artistic Director of the award-winning Boxtales Theatre Company, creating and performing original pieces based in world myth and folktales. He is also the leader of Santa Barbara's premiere dance band AREA51, and has an Executive Performance Coaching and Consulting business, focusing on Vision, Creativity and Leadership Communication with his wife Jessica Bortman, with whom he also has two sons.
---
Matthew Tavianini
Managing Director
Matthew Tavianini serves as an actor/producer/teaching artist and managing director with Boxtales Theatre Company. He is a graduate of UCSB and the FSU/Asolo Conservatory where he received his M.F.A. in acting. Some of Matthew's favorite stage credits include Semyonov Pishchik in The Cherry Orchard, Trinculo/Gonzalo in The Tempest, Michal in The Pillowman, Karl in The Last Days of the Empire, Sir Andrew Aguecheek in Twelfth Night, Telemachus in Boxtales' production of The Odyssey; Joe in The Last Night of Ballyhoo, David in The Rivals, Thurio in Two Gentlemen of Verona, Matt in Wrench, and Bobby in American Buffalo. He studied physical theater with James Donlon at UCSB and Sigfrido Aquilar at the Estudio Busqueda de Pantomimo Teatro in Guanajuato, Mexico.
Matthew teaches acting and stage combat here in Santa Barbara, and has been directing the GVJHS spring musical for the last five years. He has worked with The Lit Moon Theatre Co, Westport Playhouse, The Odyssey Theatre (Koan ensemble), Ogunquit Playhouse, The Cape Playhouse, Asolo Theatre, Santa Barbara Theatre Group, The Ensemble Theatre, The Santa Barbara Revels, Genesis-West, Speaking of Stories, Santa Barbara Shakespeare Co., and City at Peace.
---
Marie Ponce
Marie Ponce is beyond thankful for Boxtales and honored to be a part of the company. She holds a B.A. in Theatre and English from Westmont College and recently left the Santa Barbara beach to seek her fortune as an actor in LA… which makes her lucky number 108,641.
Marie has worked with several companies, including Chalk Rep, Casa0101, Young Actors Ensemble and Here and Now Theatre Co. Favorite, recent roles include: Ariel in Tempest, Kayleen in Gruesome Playground Injuries and Richard Duke of Gloucester in Henry VI Part 3. Love to her family and sweet husband: Infinity x Infinity + 1.
---
David Guerra
David Guerra is an actor, director, teaching and performing artist. He has worked with some of the most important fine arts providers in Los Angeles and Santa Barbara, including The Music Center, Center Theatre Group, Theatre Movement Bazaar, Boxtales Theatre Company, Theatre of Will, The Unusual Suspects Theatre Company, East LA Classic Theatre, Spirit Series, Enrichment Works, Los Angeles Women's Theatre Festival and Watts Village Theater Company.
Some of his film and television credits include Where the Sky is Born, Committed, Cargo, La Rosa y El Gato, Flor de Naranja, Diagnosis X and Untold Stories of the ER. His favorite stage credits are HOT CAT (Theatre Movement Bazaar, Edinburgh Festival Fringe 2014, Scotland, UK), A Mulholland Christmas Carol and Desert Aria at Theatre of NOTE; The Mission Play at The San Gabriel Mission Playhouse; Meet Me @ Metro I, II, III and Ochre and Onyx, both with Watts Village Theater Company; Dibujos de Nuestra Frontera directed by and performed with James Donlon in Puebla, México; Thirsty City with Theatre of Will; Leyendas de Duende performed with Boxtales Theatre Company in Sonora, México; 365 Days/365 Plays with The Mad Scene Theatre Company; Company of Angels' World Premiere production of Arlington; Working with Attic Theatre; A View from the Bridge, Much Ado About Nothing, and The Trestle at Pope Lick Creek, at UCSB; and The Grunt Child at East LA College. David is also a company member of Theatre of NOTE.
He received an Associate in Arts degree from East LA College and then graduated with honors and distinction from the University of California, Santa Barbara with a Bachelor of Fine Arts in Theatre. David was born in Los Angeles.
---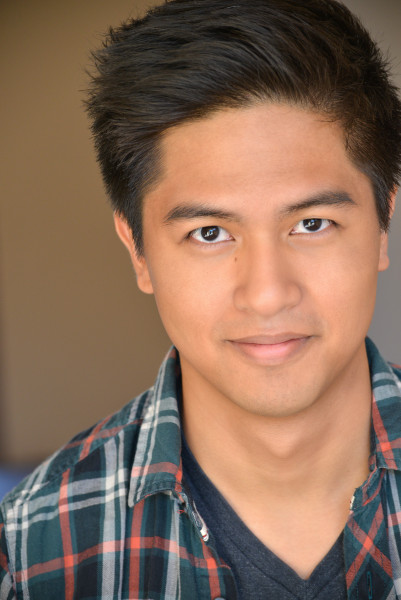 Julian Remulla
Julian Remulla is an actor who has worked in many different theatres.  Some of his credits include: Vivaldi in Appoggiatura (Denver Center Theatre Company, New Works Festival reading at Perry-Mansfield School of Theater and Dance, UC Santa Barbara); Rama in Prince Rama and the Monkey King (Boxtales Theatre Company); Angelo in Measure for Measure, Gratiano in The Merchant of Venice, First Murderer in Macbeth (Naked Shakes, UC Santa Barbara); Fortinbras in Hamlet, Kofi Ako in Anowa, Orpheus in Eurydice, Harun al-Rashid in The Arabian Nights, Valere in Tartuffe, Tom in These Shining Lives, Ben in The Theodore Roosevelt Rotunda (UC Santa Barbara). Education: BFA in acting, Acting Conservatory at UC Santa Barbara.
---
Franchesca Marisol Cabrera
Franchesca Marisol Cabrera is a performing artist, dance educator, arts administrator and advocate passionate about community engagement and arts accessibility and experience for all. She received her Bachelor of Arts in World Arts and Cultures from the University of California, Los Angeles and her Master of Arts from New York University in Arts Education with an emphasis on critical thinking. A California native and fluent bilingual Spanish speaker, Franchesca Marisol aims to offer engaging connections through arts experiences in educational settings, through tv and film, as a consultant to varied arts organizations and cultural institutions, and collaborating with local and national community members.
A former employee of Ballet Hispanico as the Community Programs Manager and General Company Manager for Company XIV Dance Inc in New York City, she has extensive arts administrative experience in community programming for young audiences and management of theatrical performance seasons. She is currently the Director of Operations for Santa Barbara Dance Institute and the Booking Assistant for Boxtales Theatre Company.
---
Founding Artists
Michael Katz
Co-Founder
Michael has been a storyteller for 16 years on his radio storytelling program Katz Pajamas heard on two stations in the South and Central Coast (KCSB and KCBX). During this time he has been telling stories throughout the United States at schools, museums, theatres and festivals. He has been featured at such illustrious locations as The Corn Island Storytelling Festival in Kentucky and at the opening of the LA Getty Center. He is the founding director of the Flying Leap Storytelling Festival in Solvang. In Santa Barbara County he is known as the "resident storyteller," teaching the art of storytelling to thousands of elementary aged students throughout the County.
---
Joseph Velasco
Co-Founder
Joseph is a former Resident Director with the renowned El Teatro Campesino and Co-Director of Una Pastorela in Santa Barbara. He has studied movement theatre in Mexico at the International Estudio Busqueda de Pantomima Teatro and is a member of the movement theatre based James Donlon & Co. With BOXTALES he combines elements of mime, commedia dell arte, modern dance and clowning.
---
---
Other Contributing Artists and Influential Teachers
 Jeff Mills
Over the last decade, Jeff has co-created and/or performed in eight original BOXTALES productions. He has also worked extensively with Shakespeare Santa Barbara as a director (Twelfth Night) and an actor (Jaques in As You Like It, Theseus in Midsummer Night's Dream and Hortensio in Taming of the Shrew.) He received his undergraduate training in acting at UC Santa Barbara and then attended the Guildford School of Acting and Dance in England and the National Theatre Conservatory in Denver. He has performed with the Denver Center Theatre Company, Colorado Shakespeare Festival, Theatre de la Jeune Lune, American Folklore Theatre, PCPA Theatrefest and Door Shakespeare Festival (Co- Founder, Director and Artistic Director) in Door County, WI. In April 2005 Jeff appeared as Tristan in Bill Viola's film, which accompanied Peter Sellars' production of Tristan and Isolde at the Opera National in Paris, France, the Lincoln Center in New York and the Disney Concert Hall in Los Angeles. In May, 2008 Jeff won an Indy Award for his performance as Katurian Katurian in Genesis West's production of The Pillowman. Jeff currently teaches movement for actors at UC Santa Barbara.
---
Sigfrido Aguilar
Sigfrido Aguilar (Guanajuato, Mexico) has received critical acclaim throughout Mexico, the USA, Canada, and Europe. He has toured internationally with solo work as well as with his company, Comediantes Pantomima Teatro, of which he is the founding artistic director. He is also the founding director of the first school of mime, clowning, and movement in Mexico and is the founding artistic director of the International Festival of Contemporary Mime in Mexico from 1978 to 1994. Sigfrido was the first solo artist invited to perform and teach at the Ringling Brothers Barnum & Bailey Circus Clown College.
---
James Donlon
James Donlon has been a celebrated master teacher and international performer since 1970. He has been on the faculties of acting schools such as The American Conservatory Theater, The University of North Carolina School of the Arts, The National Theatre Conservatory-Denver Center, The Yale School of Drama, UCSB, and UCSD.
Donlon has presented residencies with special institutions like El Teatro Campesino, Mexico City 's Bellas Artes, Prague's national Academy of Performing Arts (AMU), Dublin's Gaiety School of Acting, and Ringling Brothers, Barnum & Bailey Circus Clown College where he taught Tony Award-winner Bill Irwin and Big Apple Circus clown icon Barry Lubin.
He has been a film movement coach for Oscar-winners Javier Bardem, Kathy Bates, and Frances McDormand, as well as Benjamin Bratt and David Strathairn. James is the only physical theater artist ever invited to perform with legendary San Francisco street mime Robert Shields of CBS' The Shields & Yarnell Show. He is the first American clown to perform in the famed Teatro Dimitri of Switzerland. James has performed his original work throughout North America, Europe, and Latin America to critical acclaim.
---
Ann Chevrefils
Mask Maker
Ann Chevrefils considers herself a graduate of the Summer Solstice Celebration. She has been making masks for many years but moved into giant puppets as a result of her participation in the parade. Her favorites include a flock of 27-foot pteranodons, one of which still soars in the children's area of Santa Barbara's Central Library, and the whimsical flying bugs that carried passengers up State Street. Many of her puppets now reside at P.S. 1, a charter school in Denver, Colorado. Recently Ann designed the masks, costumes and puppets for Theater Gone Wild, at the Santa Barbara Zoo. She likes to shop at hardware stores.
---
Lesley Finlayson
Costume and Mask Designer
Lesley has been designing for the theatre for over a decade. She has also worked with Lit Moon Theatre Company, Cormorant Dance Theatre, Westmont College, UCSB, and many other companies in California as well as Paris, Belgium, Montreal and Las Vegas. She was the apprentice of Erhard Stiefel, Master Maskmaker of the Theatre du Soleil in Paris, and was a member of the Costume Team on Celine Dion's 'A New Day' at Caesar's Palace, directed by Franco Dragone of the Cirque du Soleil. Currently she is teaching design at Westmont College, designing costumes, sets and lights for Luna Dance Theatre, and designing for Lit Moon Theatre's Richard II in collaboration with Yvgenia Nayberg and Jonathan Hicks. Lesley received her Master's and her Doctorate degrees in Dramatic Arts from the University of California.
---
Lindsay Rust
Mask Maker & Set Designer
Lindsay has a BA in Art History and Practice as well as a B.S. in Anthropology from Northwestern University. She spent 2 years in Niger, West Africa where she studied with traditional wood-workers, mask-makers, batik artists and silversmiths. Rust has collaborated with BOXTALES on numerous mask and theatre projects. In 2000, BOXTALES invited Rust to design the visual world for Jambo Watoto – a collection of East and West African tales. Much of the work that she completed for Jambo was influenced by her experiences living and working in Niger, West Africa from 1996 to 19'98. Most recently, Rust collaborated with Boxtales on Waters of the Earth: Multicultural Tales of the Sea. Designed to depict various characters from seafaring mythologies around the world, this collection of masks and props reflects Rust's continually developing artistic style.